Born From the Limb

April 21, 2023–May 21, 2023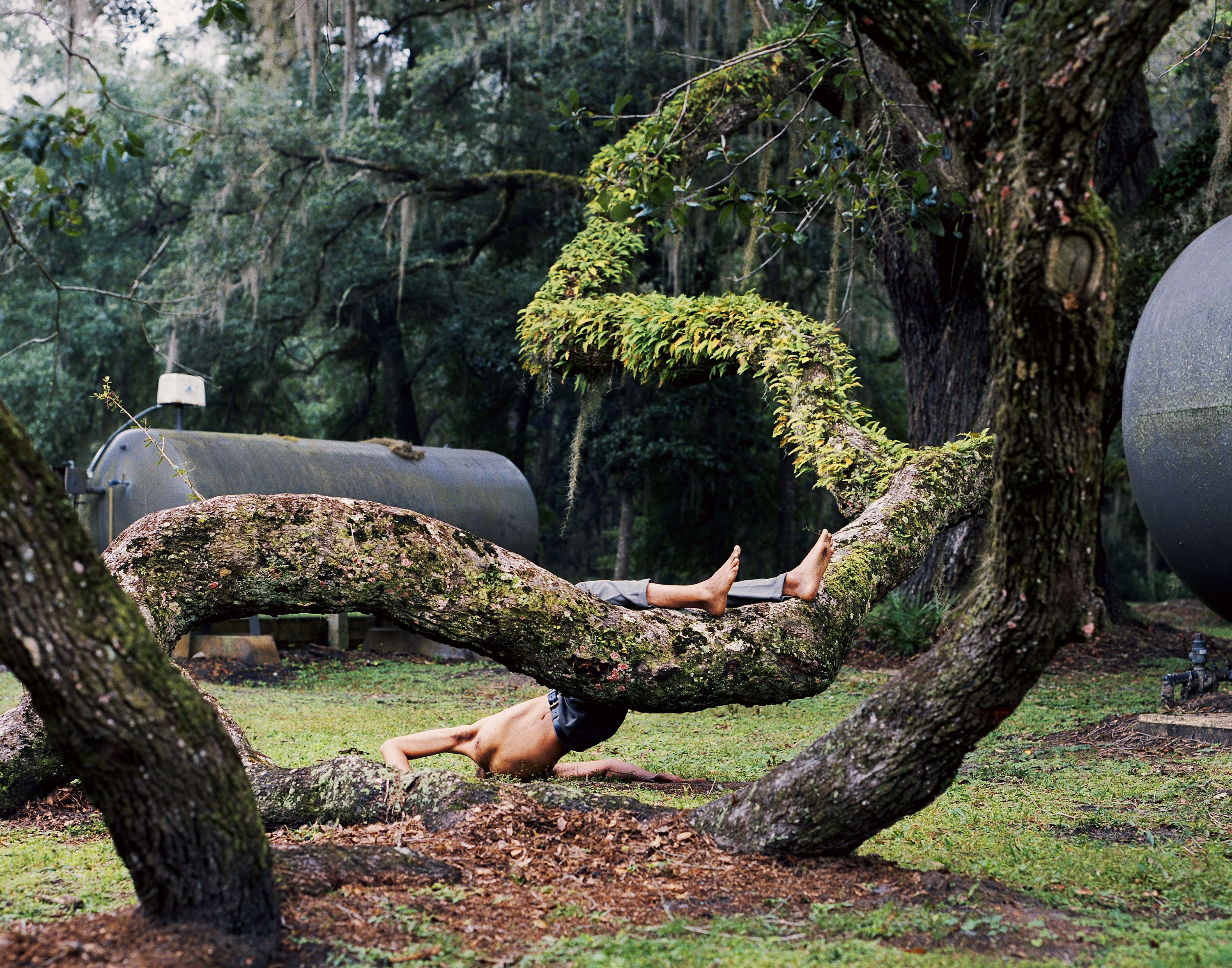 New Collectors is pleased to present Born From the Limb by Maximilian Thuemler. The exhibition features 6 framed photographs interspersed with an array of archival materials and prints pinned to the wall. Both the photographs and found ephemera encapsulate the artist's exploration of the history and landscape of the US Coastal Southeast over the course of five years.
The images range from self-portraiture to landscapes and their fragmented abstractions, luring the viewer with surface beauty towards a deeper murky territory of uncertainty. The pictures exist within the context of current discussions touching upon racial politics, yet simultaneously resist a pull towards illustrative clarity. Instead, they present themselves as portals of varying opacity, carrying the viewer through history to sites of mud and soil invigorated by ritualistic gestures and fragmented movements.
Between 2018 and 2022, Thuemler traveled to the coastal regions of South Carolina and Georgia on five different occasions to research, visit, and photograph various landscapes scarred by history and suspended in the limbo of a fractured collective memory. Amidst this terrain, tragedies like the 2015 mass shooting at the Emanuel African Methodist Episcopal Church in Charleston and the onslaught of violent law enforcement throughout South Carolina and Georgia exist in the wake of an unresolved past drawing its course through folded layers of time and memory. Within the work, these moments take hold as part of a nonlinear constellation addressing blackness in a continuum of life facing negation and the resulting necessary adaptations to hostile environments.
Thuemler grew up in Berlin but spent summers in Chicago and occasionally in New York with family. Considering both a European and American perspective on colonialism, forced migration, and labor, he was drawn to the specificity of the Coastal Southeast's ports as an entry point to the broad US-American discourse facing more than 400 years of progress at the expense of bodies and minds deemed expendable. He also points to the lyricism of fecund decay found in the marshes and swamps that form a recurring backdrop for his performative, repetitive, and meditative style of movement.
"Early on, it became very clear that the project was going to be anchored in performance and the body as a medium. Images of landscapes both at a legible distance and in dissociating detail would create the stage. Over the years, this foundation grew into a framework composed of photographs that I made, grounded by the materials that started accumulating in the form of newspaper articles, documents, postcards, and pictures roughly spanning the last 150 years. Seen together, the glint of a possibility for these united fragments to explore expansive image landscapes that enable a critical assessment of official histories, archival narratives, and vernacular traditions started to reveal itself."
Maximilian Thuemler (b. 1990 in Berlin, Germany ) received a BFA from Parsons School of Design in 2014. His work has appeared in Fraction Magazine, Tabula Rasa Magazine and Office Magazine among others. It is also part of the Yuko Nii Foundation Collection in Brooklyn, NY. He is a recipient of the 2022 CENTER Project Development Grant, the 2021 Creator Labs Photo Fund, and the 2020 Lucie Foundation Emerging Artist Scholarship. He is also among the 2021 Critical Mass Top 50. Recent group exhibitions include Corona Culture at Alte Muenze in Berlin, Salon #1 at New Collectors in New York, Tabula Rasa Magazine Volume IV: Performance at Usagi NY, and Thank You, Have a Nice Day. at Galerienhaus Berlin. He is currently based in Brooklyn, NY.
Opening reception:
Friday, April 21, 6-8pm